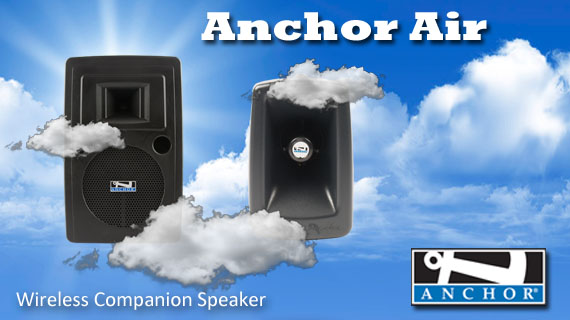 Anchor Audio AIR at a Glance...

Wirelessly Transmit to One or More Companion Speakers
- No More Running Cables!
- Go Where Cables Can't
- ADA Compliant
Built-In AIR Wireless Transmitter
- Transmit to AIR Companion Speaker(s)
- 150' Range to Companion Speaker(s)
Built-In AIR Wireless Receiver in Companion Speaker
- Expandable to Multiple Companion Speakers
- Cover the Area You Need - Wirelessly
Compatible with Anchor Assisitive Listening Devices
&nbsp - Easily Add Wireless Receiver w/Headphones
Alternate Wired or Wireless Mode
Deluxe Air Package Features
Purchasing the Liberty Deluxe Air Package gives you two speakers that communicate wirelessly and everything you need to operate your sound system - right out of the box!


Wireless Companion Speakers
Anchor Audio has set out to perfect the concept of a wireless companion speaker that offers dramatically expanded wireless range, increased system capacity, and instant ADA compliance. The AIRs are battery powered, perform 6-8 hours or more on a single charge, and can be placed 150+ feet from the transmitter. One transmitter can connect to an unlimited number of AIR wireless companion speakers. The AIR wireless technology offers 100 user-selectable channels operating within the 900 MHz frequency, which is one of the few clear channel ranges available and therefore limits interference from competing signals. Furthermore, the 900 MHz band offers expanded wireless range for an increased transmission distance. AIR companion speakers can also operate in 'wired mode,' which includes simply flipping a switch and plugging in a cable.