Soft Case for Two SS-550 Speaker Stands
CC-550
$129.00

Soft Case for Two SS-550 Speaker Stands
CC-550
$129.00
CC-550 at a Glance
Nylon Bag
- Non-Waterproof
- Strong Carry Handles
Accommodates 2 Speaker Stands
- Cover for 2 Stands
Great for Storing
- Keeps Dust off Standt
- Keeps Stands Together
Weighs 1 Pounds
Compatible with:
- SS-550
Soft case for two SS-250/SS-550 speaker stands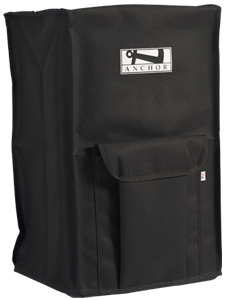 Tired of carrying around multiple speaker stands? We have the perfect solution! The CC-550 is a soft carrying case for up to two speaker stands. The carrying bag is made of black nylon with strong handles.
Great Customer Service
At Ozarks Audio Visual we pride ourselves with great customer service and product knowledge. We are a Platinum Anchor Audio dealer with years of experience working with, setting up and selling Anchor products. When you place your order we will provide you with an invoice or necessary paperwork for your records. When your order ships we'll send you a tracking number so you'll know when to expect your package. Place your order online or give us a call and check out our fast, efficient, friendly service today!
Fast Shipping
The Anchor Audio Audio Carry Bags sold are brand new shipped directly from Anchor located in Carlsbad California or from our warehouse located in Missouri. Orders usually ship the same day or the next business day. If you have any questions please feel free to call our office at 800-960-4287 or e-mail us at
sales@ozarksav.com