Replacement Battery for MegaVox Pro
MEGA-BAT
$70.00

Replacement Battery for MegaVox Pro
MEGA-BAT
$70.00
MEGA-BAT at a Glance
Anchor Replacement Battery
MegaVox Pro Battery
- MEGA-8000 series
- MEGA-7500 series
- MEGA-6000 series (blue top batteries)
Not for PB-35 series
Ships Directly From Anchor Audio
Caring for the MEGA-BAT Battery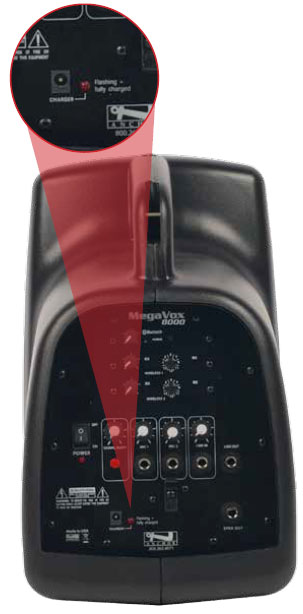 It is very important that you fully charge the battery in your MegaVox before the first time its used. To preserve battery life it is also recommended that the battery be fully charged as soon as possible after every use regardless of the length of operation.
Understanding the MegaVox Pro Battery Indicator
LED Flashing Red
: Battery charge is very low, in 15-30 minutes the Battery Protection Circuit will turn the system off.
LED Off
: Battery is completely drained and must be charged.
Operating in AC Mode
Plug your sound system into an AC outlet. Operate as normal while charging the built-in battery at the same time. The Charger LED will light during charging and flash when the battery is fully charged.
Battery Service Time
With the battery fully charged you can expect approx.: 8-12 hrs @ Medium Volume 3-6 hrs @ Full Volume of continuous music input (longer for speech). Service time will vary depending on control settings and use of accessories (built-in wireless receivers and/or a companion speaker).
Charging the Built-In Battery
An automatic charging system is built-in to your MegaVox PRO PA System. It is designed to properly charge and maintain the systems built-in battery. To charge battery:
1. Plug the power cord into your sound system
2. Plug the other end of the cord into AC outlet - Charger LED will stay on during charging
3. Battery fully charged in approximatly 15 - 20 hrs - Charger LED will flash
When in AC mode the system automatically transfers power from the battery charger to the power amplifier at high volume output, causing the Charger LED to flicker.
System Storage and Batteries

Always store your sound system with the battery fully charged. For extended periods of storage leave the system plugged into an AC outlet. If this is not possible, charge the system at least once each month for a minimum of 24 hours.
Instalation Video
---
Spec Sheets
Below is the Owners Manual for the Anchor MegaVox Pro in printable .pdf form.
MegaVox Pro Manual

Click to Download