Replacement Battery for Go Getter, Acclaim and Explorer
BAT
$78.00

Replacement Battery for Go Getter, Acclaim and Explorer
BAT
$78.00
BAT at a Glance
Anchor Replacement Battery
Compatible With
- Go Getter
- Explorer
- Acclaim
12V
7-9AH
Ships Directly From Anchor Audio
Caring for the Go Getter Battery
An automatic charging system is built-in to your Go Getter Sound System. It is designed to properly charge and maintain the systems built-in battery.
Charging the Battery
1. The Battery Level Indicator Green Light will dim and eventually turn off when battery is low
2. To charge the battery, plug the AC power cord into the Go Getter
3. Plug the other end of the cord into AC outlet
4. The Charge Indicator Light will show solid red light when charging and turn off when charging is complete
To preserve the life of your battery it is recommended that it be fully charged as soon as possible after every use regardless of the length of operation. It takes approximately 8 hours to charge the Go Getter battery.
Battery Replacement
The battery may need to be replaced every 2 – 3 years depending on usage over time
To replace your battery, you will need a Phillips screwdriver and follow these procedures:
1. Be sure the power switch is in the OFF position
2. Remove the four screws on the battery cover panel and remove the panel
3. Gently slide the battery out of the battery compartment and unclip the battery connection cables
4. Remove the old battery
5. Connect the new battery's connection cables and gently slide the new battery into the battery compartment
6. Replace the battery cover panel and the four screws
System Storage and Batteries
Fully charge battery before storage. For extended periods of storage either leave system plugged into an AC outlet or charge the system at least once each month for a minimum of 24 hours
Battery Service Time

Fully charged battery will yield approximately 6 – 8 hours of continuous music at medium volume level (2 – 4 hours at full volume or longer for speech only). However, service times vary depending on control settings and use of accessories.
Instalation Video
---
Spec Sheets
Below are the Owners Manuals for the systems this battery is installed in printable .pdf form.
Go Getter Manual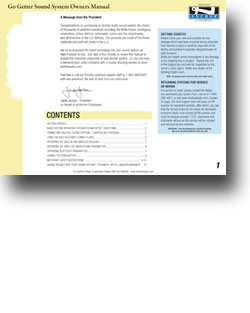 Click to Download
Explorer Manual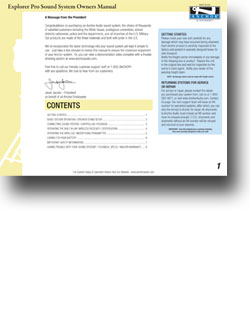 Click to Download