Admiral Lectern FL-7500
admiral
$1,137.00

Admiral Lectern FL-7500
admiral
$1,137.00
Anchor Admiral at a Glance

American Oak
Detachable 24" Gooseneck mic Included
Weighs 75 lbs
Product HWD: 46" x 25" x 20"
Table Top: 24" x 21.5"
Tilt-N-Roll Casters
Sound System Sold Separately
- Holds a Liberty or Go Getter
Ships Flat in One Box
- Easy Assembly with Phillips Screwdriver (Not Included)
6 Year Warranty
Portable Easy to Use Floor Lectern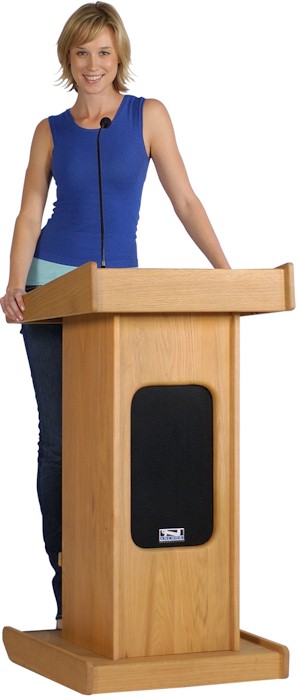 Contemporary design The Anchor Admiral is a sleek, stylish and sophisticated lectern that complements any contemporary design in boardrooms and auditoriums. Connect it to your PA system via the XLR jack, or slip a or Go Getter powered sound system into the pedestal, and Admiral becomes a self-contained podium with sound!
Shock Absorbing Microphone
With its oak surface and solid oak trim, the Anchor Admiral adds power and richness to a speaker's words. The sensitive electret microphone helps too, giving even soft-spoken presenters more authority. The Anchor Admiral is fitted with a shock-absorbing microphone mount that isolates the mic from lectern vibrations, to help eliminate thumping and discourage feedback. And when all's said and done, tilt-and-roll wheels make Admiral easy to move and store.
Easy Questions
Questions and answer sessions with your audience are easy with the Acclaim wireless packages. With the wireless package the gooseneck mic can be used at the lectern and a wireless mic can be used in the audience for questions. No more shouting from the audience!
Gooseneck Mic Included
All versions and packages come with a gooseneck mic that can plug into the inputs of either package or your sound system. Just wheel it into place and use it at your next school spelling bee, speech, city council meeting, or other indoor/outdoor event!
Great Customer Service
At Ozarks Audio Visual we pride ourselves with great customer service and product knowledge. We are a Platinum Anchor Audio dealer with years of experience working with, setting up and selling Anchor products. When you place your order we will provide you with an invoice or necessary paperwork for your records. When your order ships we'll send you a tracking number so you'll know when to expect your package. Place your order online or give us a call and check out our fast, efficient, friendly service today!
Fast Shipping
The Anchor Audio Admiral units sold are brand new units shipped directly from Anchor located in Carlsbad California. Orders usually ship the same day or the next business day. If you have any questions please feel free to call our office at 800-960-4287 or e-mail us at
sales@ozarksav.com
100% American Oak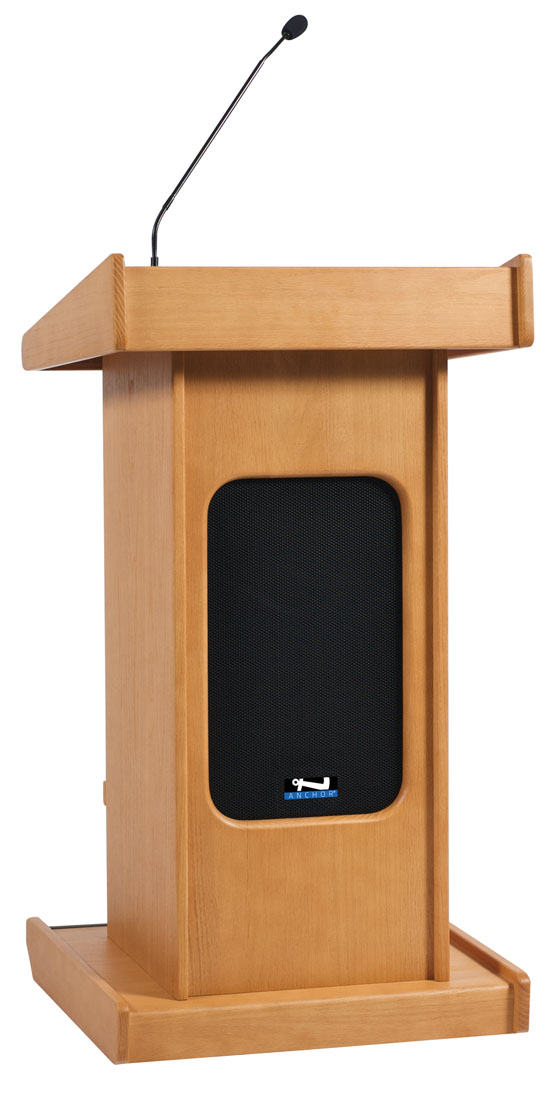 The Admiral Lectern is a impressive lectern made of 100% American oak and provides the portability needed for any event. The Admiral Lectern conveniently fits a Liberty or Go Geter Sound System right into the cabinet space perfectly.
Packages Available
We offer two packages for the Admiral Lectern, the LK-GG and the LK-LIB. Both of these sound systems are AC/DC units so they can operate off an AC current or off their internal rechargeable battery making this a portable podium for presentations virtually anywhere.
Admiral Go Getter Package
The LK-GG ships with the Admiral Lectern and the Anchor Go Getter sound system. The Go Getter is a small lightweight (about 23 pounds) sound system that fits right into the Admiral's pedestal. Designed for crowds of approximately 500 people and enough connections to accommodate any music player or audio source.
Admiral Liberty Package
The LK-LIB package features the Admiral Lectern with the Liberty Platinum sound system. A slightly larger system that the Go Getter it will comfortably fit in to the Admiral's podium space. Designed for crowds of 1000 this system is the jewel of the Anchor line and will handle any audio source you have.
The Anchor Admiral Is Here!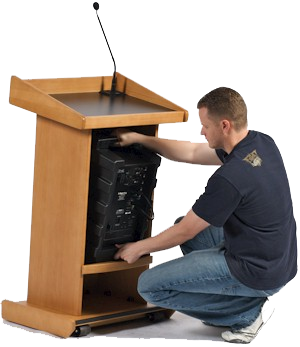 A more streamlined manufacturing process brings a more durable, reliable and better sounding Admiral to the market. Here's a lists of great features:
User Friendly Design

Tint-N-Roll Casters make the Anchor Audio Admiral easy to move
Any Liberty or Go Getter units will simply set inside the Anchor Admiral cabinet
Added Features

Gooseneck Mic included
Shock-absorbing mic mount prohibits feedback/vibration noise
Easy assembly with Phillips screwdriver (not included)
Great looking American Oak design
LC-400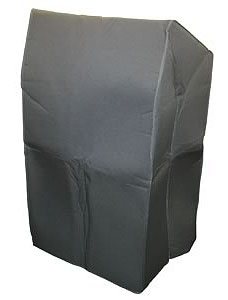 Admiral Soft Cover
Soft padded cover for the Anchor Admiral Lectern
Weight 4.5 lb
Dimensions: 46.5" x 25.5" x 20.5"
Spec Sheets
Below are the Brochure and Manual for the Anchor Admiral Lectern. These are printable spec sheets in .pdf form.
Admiral Brochure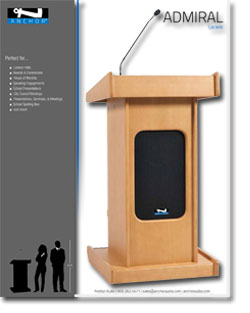 Click to Download
Admiral Manual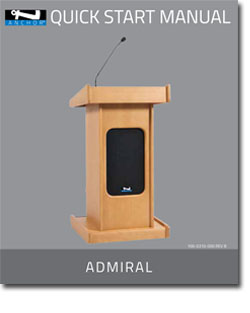 Click to Download