Acclaim Basic Package
acclaim
$2,032.00

Acclaim Basic Package
acclaim
$2,032.00
Anchor Acclaim
Lectern with Built-In Sound System System
Tabletop Presentations or Optional Base for a Full Floor Lectern
Portable Easy to Use Tabletop or Floor Lectern
The Standard in Portable Sound
The Anchor Audio Acclaim Lectern is perfect for sound projection in indoor or outdoor settings and activities. The unit delivers 114dB of intelligible speech from one sound system designed for users with no technical knowledge. The Anchor Acclaim is truly versatile with true AC/DC operation and a 110/220 power supply and can run for 7+ hours per charge! Options include a built-in UHF wireless receivers. The system is ideal for schools, hotels parks & recreation departments or anywhere a portable lectern is needed.
Lectern Base
Add the optional base and the Anchor Acclaim becomes a floor lectern. The lectern base is also a portable transport case with tilt-n-roll casters for easy movement. The ACL-BASE dimensions are 30.5: x 21.5" x 18.5" and weighs just 38 pounds! The carpeted base makes it easy to attach logos and signage with Velcro. The carpet also prevents scratches and dings that can make other lecterns look worn over time.
Wireless Mic Option
Add a wireless mic option to the Anchor Acclaim and this lectern becomes truly versatile! First of all when you add the wireless mic option you still get the gooseneck mic that will attach to the top of the lectern. The wireless mic will allow a second speaker to talk through the Anchor Acclaim's sound system!
Easy Questions
Questions and answer sessions with your audience are easy with the Acclaim wireless packages. With the wireless package the gooseneck mic can be used at the lectern and a wireless mic can be used in the audience for questions. No more shouting from the audience!
Packages Available
The Acclaim Budget Package (ACL-BUDGET) comes with a portable, sound lectern that is filled with features and benefits that outshine all the rest. It includes the ACL-7500 Lectern Top which can be placed on top of the Lectern Base (also included) for a stand alone lectern. The Basic Package includes the ACL-7500U1 Lectern Top that has one built-in 16 channel wireless receiver and comes with your choice of wireless mic and you can add a base if needed. The Deluxe Package includes the ACL-7500U2 Lectern Top that has two built-in 16 channel wireless receivers and comes with your choice of two wireless mics and the base. The Lectern Top can also be used alone as a tabletop lectern, by setting it upon a table or desk. The top has sides that fold in and it fits easily inside the base, which has wheels and a handle for easy transportation. It is loud, battery powered, and runs up to 7 hours on single charge.
Gooseneck Mic Included
All versions and packages come with a gooseneck mic, has 1/4" input if you want to attach a wired mic, and it can reach crowds of 500+ people. Just wheel it into place and use it at your next school spelling bee, speech, city council meeting, or other indoor/outdoor event!
Second Speaker
A speaker out jack is installed on the Anchor Acclaim to power an AN-1001X unpowered companion speaker. There is also a line out jack that can be used with any powered speaker system or used to record the presentation.
Make it quieter...Add a second speaker!
While adding the second speaker can make your system louder, it can also give you the ability to turn it down! By adding a second speaker you can have two speakers 50 to 100 feet apart feet apart and with this better coverage you can actually turn the sound down. This way the people sitting next to the speakers don't have to experience how loud your Liberty Platinum can actually get! A second speaker can always be added later or order the deluxe package now and get the stand and cable you need.

The Next Generation Acclaim Is Here!
A more streamlined manufacturing process brings a more durable, reliable and better sounding Acclaim to the market. Here's a lists of great features:
User Friendly Back Panel
All the dials, knobs and inputs have been laid out in an intelligible way, making the Anchor Acclaim easy to navigate and control
Separate volume control knob for the wireless microphone



Added Features
Add a lightweight AN-1001X Companion Speaker for more sound!
Detachable Gooseneck Mic and reading lamp included
Use as a table top podium
Acclaim can be stored in the optional base unit
Base unit has Tilt-n-Roll casters making it easy to transport!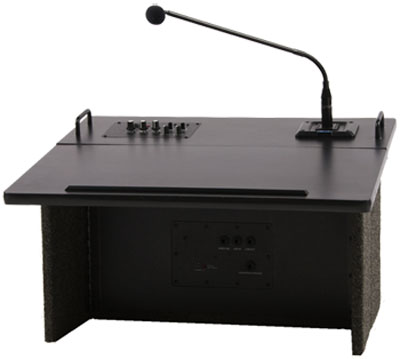 Great Customer Service
At Ozarks Audio Visual we pride ourselves with great customer service and product knowledge. We are a Platinum Anchor Audio dealer with years of experience working with, setting up and selling Anchor products. When you place your order we will provide you with an invoice or necessary paperwork for your records. When your order ships we'll send you a tracking number so you'll know when to expect your package. Place your order online or give us a call and check out our fast, efficient, friendly service today!
Fast Shipping
The Anchor Audio Acclaim Lecterns sold are brand new units shipped directly from Anchor located in Carlsbad California. Orders usually ship the same day or the next business day. If you have any questions please feel free to call our office at 800-960-4287 or e-mail us at
sales@ozarksav.com