MiniVox Lite Deluxe Package
MINIVOX-LITEDP
$821.00

MiniVox Lite Deluxe Package
MINIVOX-LITEDP
$821.00
MiniVox Lite-DP at a Glance
MiniVox Lite-DP Includes:
- AN-MINIF1 Sound System
- Weight 2.5 lbs
- Wireless Mic Receiver
- Soft Case with Carry Strap
- Your Choice of 1 Wireless Mic
- 300' Wireless Range
- MIC-50 Wired mic
- RC-30 Recharge Kit w/Batteries
- 6 Year Warranty
Reaches crowds of 100+
100 dB of Clear Sound
30W AC/DC Mode
Requires 10 AA Batteries
- Operates 10 - 12 Hours on Single Charge
Product HWD: 5.5" x 5.5" x 6.5"
Made in the USA
Anchor Audio MiniVox Lite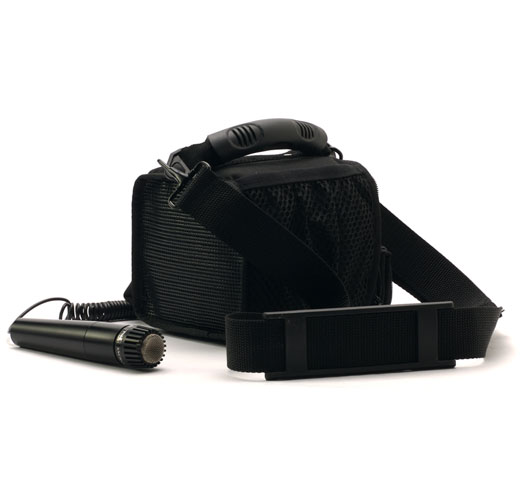 The Anchor MiniVox Lite public address system is a lightweight, compact, conveniently battery operated unit widely praised by users across all industries. The package includes wireless microphone upgrade options and a shoulder strap for mobility. The MiniVox Lite comes in a variety of colors including black, blue, red or yellow.
Great for Anyone Needing Amplification
The Anchor MiniVox is great for auctioneers, law enforcement, search and rescue squads, tour guides or any person needing voice amplification. Sometimes called the Auctioneer Sound System the Anchor Audio MiniVox is perfect for auctioneers want to take a sound system around with them.
Great Customer Service
At Ozarks Audio Visual we pride ourselves with great customer service and product knowledge. We are a Platinum Anchor Audio dealer with years of experience working with, setting up and selling Anchor Audio products. When you place your order we will provide you with an invoice or necessary paperwork for your records. When your order ships we'll send you a tracking number so you'll know when to expect your package. Place your order online or give us a call and check out our fast, efficient, friendly service today!
Fast Shipping
The Anchor MiniVox Lite units sold are brand new units shipped from our warehouse conveniently located in Missouri or directly from Anchor located in Carlsbad California. Orders usually ship the same day or the next business day. If you have any questions please feel free to call our office at 800-960-4287 or e-mail us at
sales@ozarksav.com
.
MiniVox Deluxe Package Features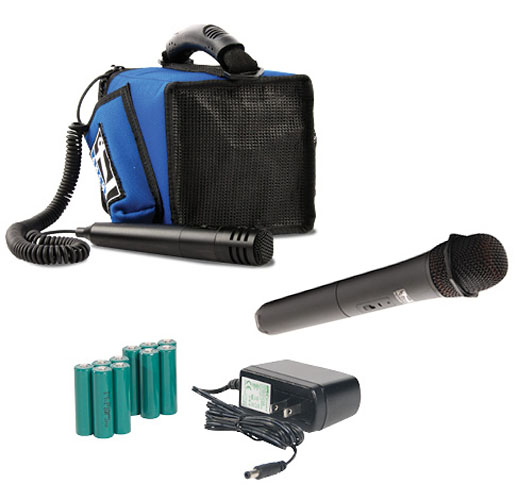 The Anchor MiniVox Lite Deluxe Package features a wireless UHF mic and built in receiver. The Lite-DP offers 16 user-selectable channels for great wireless reception. To save money purchase the Anchor Lite-DP Deluxe Package which includes the PB-30U1 with built-in wireless receiver and your choice of wireless mic: Handheld, lapel, Headband, UltraLite Headband, Recharge Kit and soft case.
Inputs for Today's Players
The Anchor MiniVox Lite has the inputs you need for today's equipment. A 3.5mm line Input allows you to plug-in an iPod, MP3, and CD Player. A powered mic can be plugged into the 3.5mm Lo-Z phantom power jack and a 1/4" mic jack is also available for the supplied wired mic.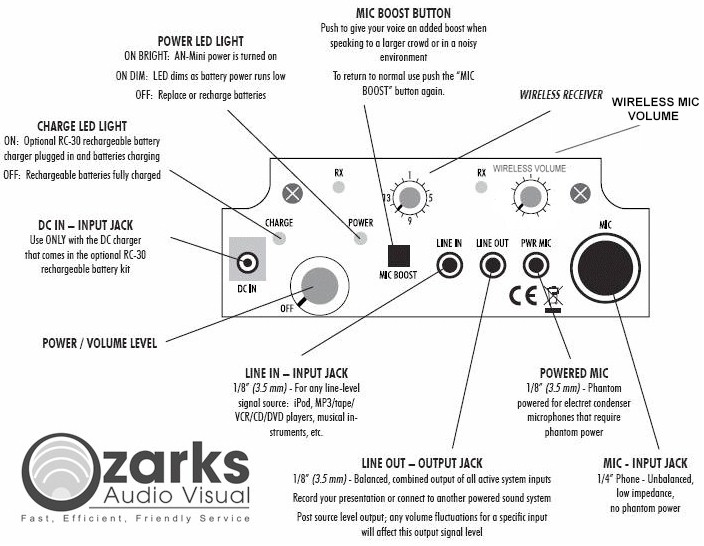 16 Wireless Channels
The wireless transmitters offers 16 user-selectable channels for great wireless reception. If there is interference on the wireless channel you are using you can simply switch to a different channel and have 16 to choose from. If there is another Anchor system within range and they are using the same channel you can switch to a different channel so each can operate without interrupting each other.
Voice-Over Music
Playing music through the MiniVox Lite is as easy as connecting your iPod, MP3 or CD Player to the Line In plug. You can also talk over the music when using the supplied wired mic or the optional wireless mic. The MiniVox Lite volume knob controls the audio source and microphone levels simultaneously. Set the volume level then use the volume control of your music player to set the volume of the music. If using the model with the wireless mic there is also a wireless volume control that allow you to set the volume of the wireless mic separately. The MiniVox Lite volume knob will still control all the inputs of the MiniVox Lite including the wireless mic.
MIC-50 Wired Mic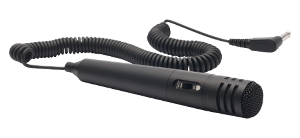 The Anchor Lite BP includes the MIC-50 wired mic. This mic includes a coiled cable with a 1/4" plug an on/off switch. The mic plugs directly into the MiniVox Lite.
RC-30 Recharge Kit Included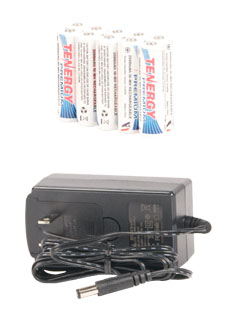 The Anchor Lite BP includes the RC-30 Recharge Kit and batteries. The recharge kit includes 10 AA rechargeable batteries and a AC_30 charger. The AC-30 charger will connect directly to the unit allowing the batteries to be charged while they remain in the unit.

Anchor Wireless Mics
16 Channel Anchor Wireless Mics
The mics featured here are 16 channel UHF wireless mics that are compatible with any of the Anchor Audio packages with a wireless receiver installed. Currently the 8000 series microphone is what is being shipped with all 8000 series models. These have a frequency set of 540 - 570 MHz.

If you have an older 6000 or 7500 series unit and you would like to use the mic that you currently have we can have the 6000 frequency receiver installed into your new sound system.
CM-60 Collar Mic
Worn Around Collar Area
Requires WB-8000 Transmitter
Worn around neck
Places Mic in Front of Mouth
Does Not Clip to Clothing
TA4F Plug
EM-60T Over the Ear Mic
Worn Over the Ear

Requires WB-8000 Transmitter
Worn over the ear
Keeps mic close to mouth
Small Windscreen
TA4F Plug
HBM-TA4F
Headband Mic
Requires WB-8000 Transmitter
Keeps mic close to mouth
Allows Head to Turn
Can Still Wear Hat/Headware
TA4F Plug
WH-8000
Handheld Mic

UHF
16 Selectable Channels
- Frequency 540 - 570 MHz
Built-In Transmitter
Compatible 8000 Series
On/Off Button
Two Year Warranty
WB-8000
Use with Hands Free Mics

UHF
16 Selectable Channels
- Frequency 540 - 570 MHz
Belt Worn Transmitter
Compatible with 8000 Series
On/Off Switch
Two Year Warranty
LM-60 Lapel Mic
Clips to Front of Shirt or Lapel

Requires WB-8000 Transmitter
Clips on front of clothing
Places a Few Inches Mic Under Chin
TA4F Plug
SS-300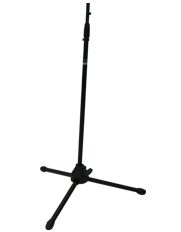 Speaker Stand
The SS-300 Speaker Stand will accomidate the MiniVox Lite sound system. The case will need to be removed in order to be put on the stand..
Weight: 3.5 lb
Dimensions: 32" x 1" x 1"
Spec Sheets
Below are the Spec Sheets and Brochures for this system. These are printable spec sheets in .pdf form.
MiniVox Lite Brochure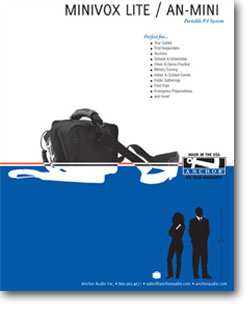 Click to Download
MiniVox Lite Manual

Click to Download