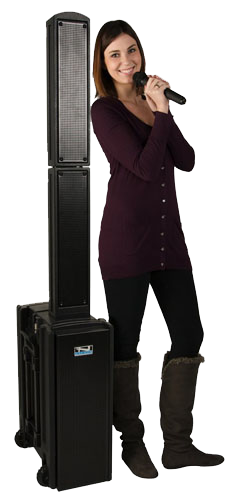 Anchor Beacon at a Glance...

Reaches Crowds of 2,500+
120 dB of Clear Sound
150W AC Mode / 125W DC Mode
Up to two built-in Wireless Receivers
Standard Built-In Bluetooth
Optional Built-In CD/MP3 Combo Player
Two Universal Mic Inputs
3.5 mm AUX line Input
Nylon Mesh Storage Bag
Durable enclosure with wheels and retractable handle
Built-in rechargeable batteries
- Operates 6-8 Hours on a Single Charge
Lightweight Array Tower has Eight 4" Neodymium Speakers
Base has Three 8" Neodymium Subwoofers
Made in the USA - Six Year Warranty
Product HWD: 28" x 18.5" x 11"
Weight: 49.5 lbs
Anchor Audio Beacon - The Coolest Portable Sound System Ever!
The Anchor Beacon Line Array is a battery powered portable line array sound system like no other on the market. We like to refer to the Beacon as the coolest portable sound system ever! The line array tower is securely stored in the base but unfolds in less than a minute. With a line array consisting of eight 4" neodymium speakers and three 8" subwoofers in the base, the Anchor Beacon provides a full range of clear sound that spreads evenly over large crowds.


Throw Away Your Old Sound System!
The Anchor Beacon is a unique, compact line array portable sound system that offers up to two built-in wireless receivers.&nbsp It also boasts standard built-in Bluetooth and an optional built-in CD/MP3 for an all-inclusive sound coverage. The compact enclosure has a storage bag for microphones and accessories and a retractable handle with rolling wheels.